Announcements & News
Help Build Phase 2 of the Playground!
It couldn't be easier to help us add $500 to the playground fund!
Who wants swings? Who wants a preschool play structure? Vote today and everyday of the contest at:
https://choosesanford.com/community/
Votes are based on IP address so you can vote on each of your devices every day!
Donations may be sent to: Town of Jaffrey, 10 Goodnow Street, Jaffrey, NH 03452
Please help us reach our goal of $40,000 to build phase 2 of the
new playground
. With a population of 5500 people in the Town of Jaffrey, a donation of $7.28 per person would
exceed
our goal.
Phase 1 was built in May 2018! YIPPEE! YAHOO! Let's make Phase 2 a reality in 2020!

Memorial Day Reverse Parade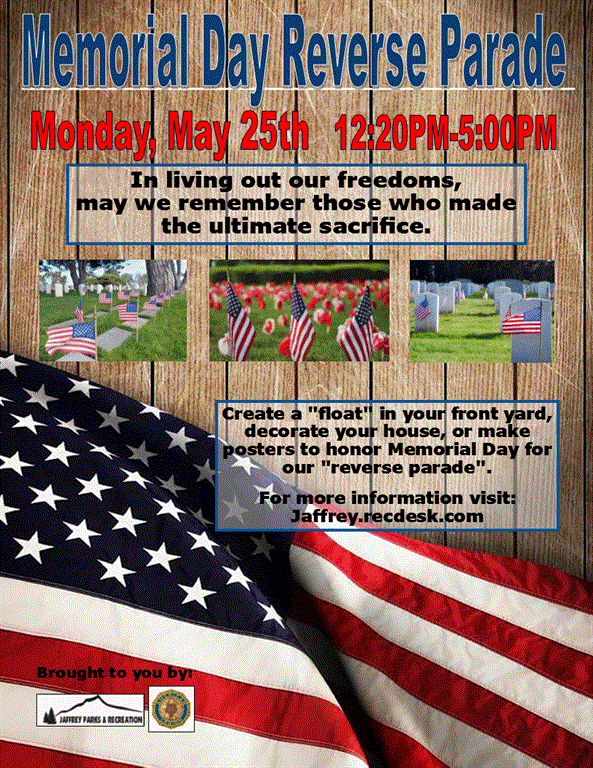 Programs & Events Canceled Until June 1st
All in-person programs and events have been canceled and will resume June 1st (subject to change). Parks are open for your enjoyment. Please practice social distancing and other CDC recommendations while you are out in public. Physical distancing doesn't mean we must socially isolate. Keep checking our website for new programs and events we are creating for you! Find COVID Closure programing under the "Programs" tab.
Mental Health FREE Resources
"SAMHSA's National Helpline is a free, confidential, 24/7, 365-day-a-year treatment referral and information service (in English and Spanish) for individuals and families facing mental and/or substance use disorders."
Monadnock Peer Support promotes wellness and recovery, as defined by the individual, through intentional peer support, and to provide advocacy, educational, vocational, interpersonal, social, and spiritual opportunities to adults who utilize mental health services to learn wellness strategies, develop mutually beneficial relationships, and to support each other in attaining increased capacities for self-determination, independence, and personal growth.
"NAMI New Hampshire provides information, education and support to all families and communities affected by mental illness and suicide."
If you know of additional free mental health resources in the area please email:
recreation@townofjaffrey.com
so we may include them in our next newsletters. May is Mental Health Awareness Month.
If you see something, say something.

Parks Are Open
There are currently no restrictions on the use of Town managed parks, hiking trails, or open spaces. Being in
nature, or viewing nature, is known to benefit your mental well-being by increasing positive emotions while reducing anger, fear, and stress. Learn more in this article:
"How Does Nature Impact Our Wellbeing?"
.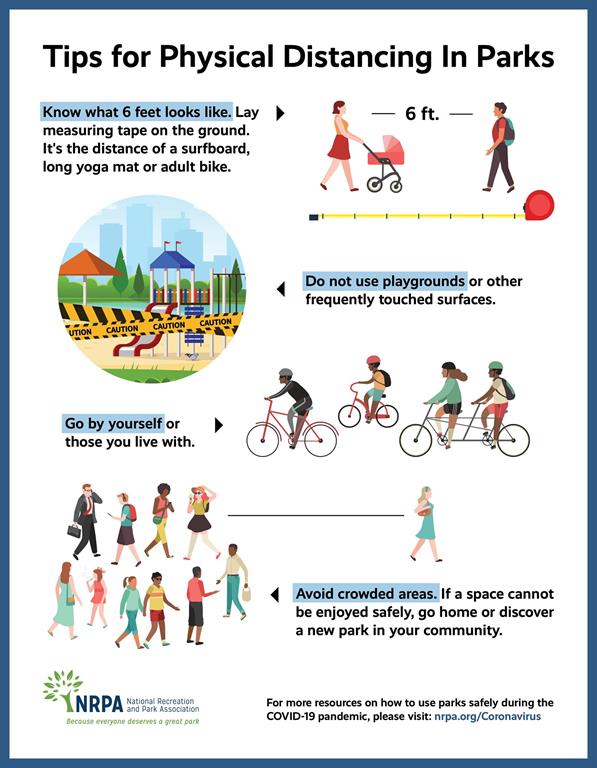 We encourage everyone who ventures outdoors to follow these recommendations:
Refrain from using parks or trails if you are exhibiting cold or flu symptoms.

Follow CDC's guidance on personal hygiene prior to and during use of parks or trails.

Prepare for limited access to public restrooms or water fountains.

While on trails, warn other users of your presence, and as you pass, and step aside to let others pass to keep the recommended 6 foot distance.

Follow CDC guidance and observe CDC's minimum recommended social distancing of 6 feet from other individuals at all times. If this is not possible, users should find an alternate location or depart that space.

Know that facilities are not cleaned or sterilized and you are using them at your own risk.